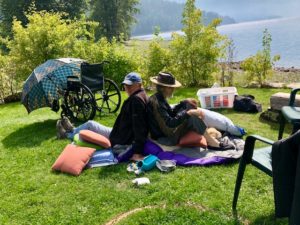 New Denver Hospice Society
Box 217, New Denver, BC V0G 1S0
250-358-7828
Email: admin@newdenverhospice.ca
Coordinator- Sandra Smith 250-355-0042.
New Denver Hospice Society Board
Chairperson – Sue Davies
Treasurer – Rhonda Bouillet
Secretary – Judi Gardiner
Directors:
Nancy Guise
Dean Spankie
Katrina Sumrall
Lynn Husberg
Additional Resources
The B.C. Hospice Palliative Care Association (BCHPCA) represents over one hundred hospice programs in British Columbia.   The link above will direct you to a listing of all the hospices in British Columbia registered with the BCHPCA.  Below is a listing of the Boundary-West Kootenay Hospices.
Boundary Community Hospice Association
7649 22nd Street
Grand Forks, B.C. V0H 1H2
Phone: (250) 443-2162
BC Bereavement Helpline
            Toll Free: 1-877-779-2223 P: 604-738-9950 / F: 604-265-4795
Hospice Society of North Kootenay Lake
Box 801
Kaslo, BC
Phone: 250-353-2299
E-mail: hospice@kaslo.org
Co-ordinator Chelsea Van Koughnett
Nakusp Hospice Society
Box 87
Nakusp, B.C. V0G 1R0
Phone: (250) 265-4137
East Shore & Area Coordinator: Alexis Phillips
Box 217, Crawford Bay, BC  V0B 1E0
Street Address:
East Shore Community Health Centre
15985 Hwy. 3A Crawford Bay
Phone: 250-227-9006 ext. 29
Fax: 250-227-9017
E-mail: hospice@theeastshore.net
Nelson & Area Executive Director/Coordinator: Jane DiGiacomo
Box 194, Nelson, BC V1L 5P9
Phone: 250-352-2337
E-mail: nelsonhospice@netidea.com
Salmo and District Hospice Society
Box 759
Salmo, B.C. V0G 1O2
Phone: (250) 357-9626
Trail and District Hospice
Kiro Wellness Centre 1500 Columbia Ave.
Trail, B.C. V1R 4M1
Phone: (250) 364-6204
About The Photographs on this website
 "For several years I have had the good fortune to photograph people in the last days of their lives. These people have been strangers and friends, people in Hospice care and on their own, people surrounded by family and friends, husbands and wives in their last days of intimacy, parents burying their child.
On the surface, I'm chronicling a person's last days, but from the very beginning I have been aware my role to the dying is that of a witness; the photographs aren't for them but for others. I am there to witness their existence; that is for them. While sitting next to his wife of 54 years while he slept, she thanked me for photographing and for the photographs, 'You know, when you're old, you're ignored, and when you're old and sick, you're invisible'.
I think, as well, that dying people see this as an opportunity to have one more adventure, a curiosity fulfilled: to be photographed without care.
Sometimes I don't photograph because I'm afraid to intrude on intimacy not directly mine. When I've moved through this fear, I may have missed the most telling moment, but I have heard only thank you's for those I have caught".
Fred Rosenberg
You may contact Fred about his photography at 352-2129 orfdr@netidea.com